Familienpolitik und die "demografische Chance"
Zur postkatastrophistischen Phase einer neuen deutschen Bevölkerungspolitik
Schlagworte:
Familienpolitik, Intersektionalität, Biopolitik, Demografie
Abstract
Since the reunification, and continuously established since 2002, we can observe a revival of demographic rationalities within German policies – after decades of abstinence from explicit population programs (at least within the Federal Republic), as reaction to cruel Nazi population policy. Demographic projections of the "aging" and "declining" of German population are since then the reference for selective pro-natalist programs. These family policy programs aim to increase the birth rate within academic and middle class sectors while excluding unemployed people from certain welfare services and reducing assistance for poor parents. At the same time, - and this is their public image – they are integrated within policies which tend to increase employment of women and which have accomplished a slight change towards a more liberal paradigm of the family and the role of women. The author analyses the current changes within demographic government programs considering a transition from a "catastrophic "to a "post-catastrophic" discourse. It does so, on the basis of an intersectional theory of the bio-political state – embedding the analysis of family policy within broader utilitarian strategies of administering national populations, also for example within migration policies. The article concludes with an appeal for a fundamental leftist, feminist and antiracist critique of demographic rationalities as part of a common critique of the nation state and continuous trends of economization of the political.
Downloads
Keine Nutzungsdaten vorhanden.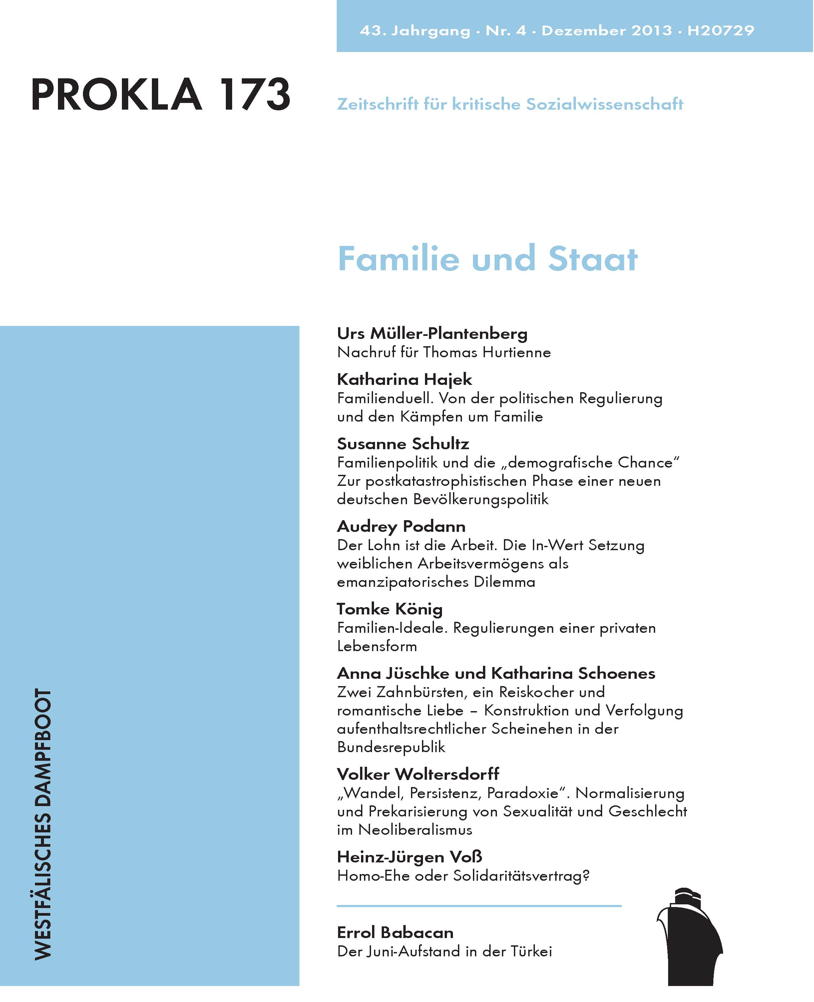 Downloads
Zitationsvorschlag
Schultz, S. (2013). Familienpolitik und die "demografische Chance": Zur postkatastrophistischen Phase einer neuen deutschen Bevölkerungspolitik. PROKLA. Zeitschrift für Kritische Sozialwissenschaft, 43(173), 539 –. https://doi.org/10.32387/prokla.v43i173.247
Rubrik
Artikel des Heftschwerpunkts