Zur politischen Ökonomie des Helfens.
Flüchtlingspolitik und Engagement im flexiblen Kapitalismus
Schlagworte:
Willkommensbewegung, Flüchtlingspolitik, Sommer der Migration
Abstract
Starting out from the huge movement of aid to refugees in Germany, the article deals with the political economy of volunteering within its wider socio-economic and political context. The authors ask in how far civic engagement and volunteer involvement are not just appreciated as part of the new "Willkommenskultur" ('welcome culture'), but explicitely exploited and co-opted as a productive resource in the context of welfare state cutbacks. The social and economic implications of the political economy of volunteering are discussed, i.e. the status of social rights in contrast to charitable help, the professionality and quality of services being provided by (non-trained) volunteers as well as the hierarchical interdependence between volunteers and refugees. At the same time, we take the specifics of the field "aid to refugees" into account since the anti-racist appeal of volunteers' engagement should not be underestimated in times of new right-wing populist forces. The article finally deals with the question in how far practices of politically explicit "recalcitrant civic engagement" might prevent the co-optation and exploitation of volunteer involvement in contemporary capitalism with its restrictive border regime.
Downloads
Keine Nutzungsdaten vorhanden.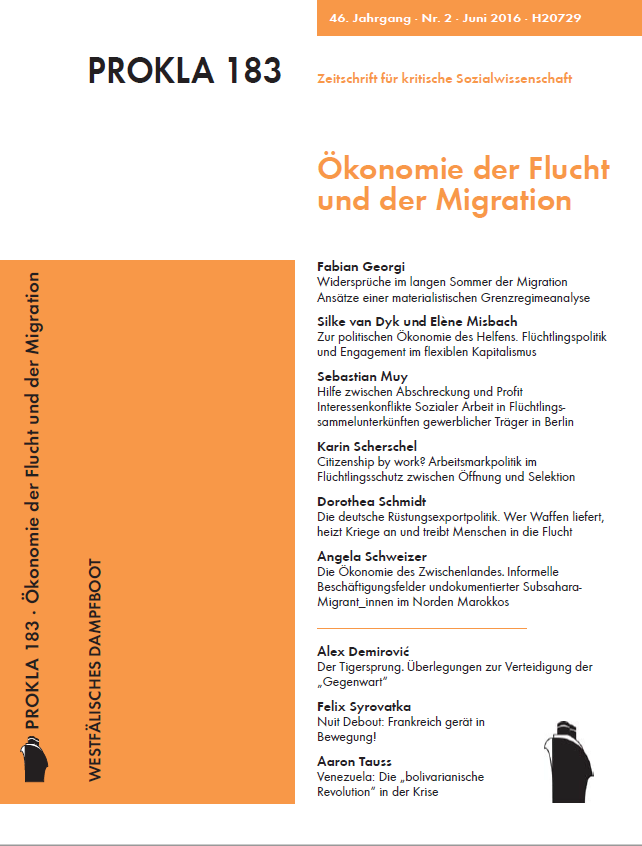 Zitationsvorschlag
van Dyk, S., & Misbach, E. (2016). Zur politischen Ökonomie des Helfens.: Flüchtlingspolitik und Engagement im flexiblen Kapitalismus. PROKLA. Zeitschrift für Kritische Sozialwissenschaft, 46(183), 205-227. https://doi.org/10.32387/prokla.v46i183.109
Rubrik
Artikel des Heftschwerpunkts