Venezuela: Die "bolivarianische Revolution" in der Krise
Schlagworte:
Venezuela, Chavez, Bolivarische Revolution, Maduro, Inflation, Lateinamerika, Extraktivismus
Abstract
Three years after the death of Hugo Chávez, the "Bolivarian Revolution" in Venezuela has plunged into the deepest crisis in its 17-year history. After winning a two-third majority of Congress in the parliamentary elections late last year, the country´s right-wing opposition is now pushing for the ouster of President Nicolás Maduro via a recall referendum. The main reason for the election results is Venezuela´s deepening socio-economic crisis. Hyperinflation, food shortages, water- supply problems, electricity rationing and rising crime make everyday life increasingly burdensome for the majority of the population. The article argues that Venezuela's two main economic problems – hyperinflation and shortages - need to be analyzed against the backdrop of the deepening of the extractive and export-oriented model of accumulation under Chavismo, the failure to develop an alternative, non-capitalist economy and the ongoing political destabilization campaign launched by the country´s oligarchy and its international allies.
Downloads
Keine Nutzungsdaten vorhanden.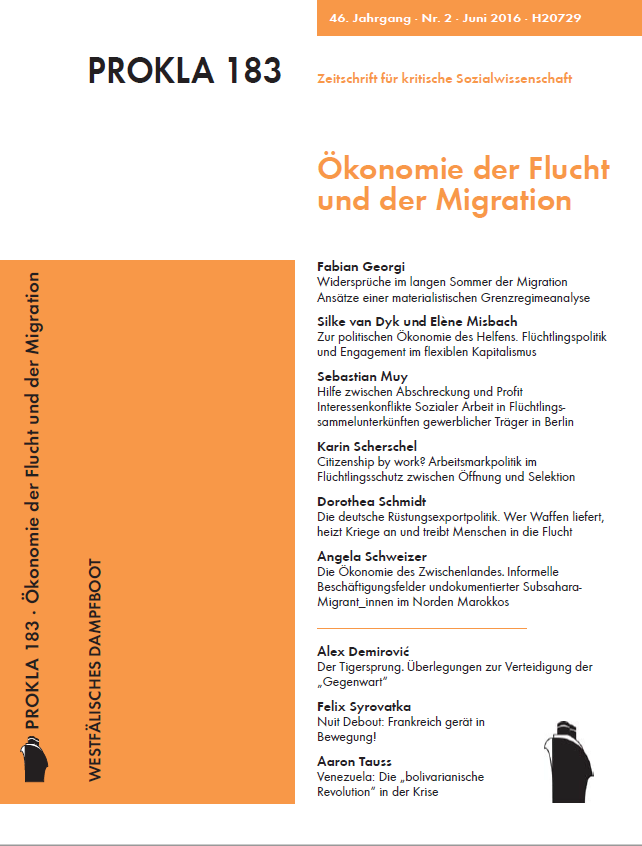 Zitationsvorschlag
Tauss, A. (2016). Venezuela: Die "bolivarianische Revolution" in der Krise. PROKLA. Zeitschrift für Kritische Sozialwissenschaft, 46(183), 325-330. https://doi.org/10.32387/prokla.v46i183.117